Pusat Kajian Ekonomi Kreatif, Kewirausahaan, dan Industri Pariwisata (EKKIP) LPPM UPI
& Gerakan Ekonomi Kreatif (GEKRAFS) Jawa Barat
Present:
BICREETID (Bandung Innovative of Creative Economy, Entrepreneurship, and Tourism Industry Development)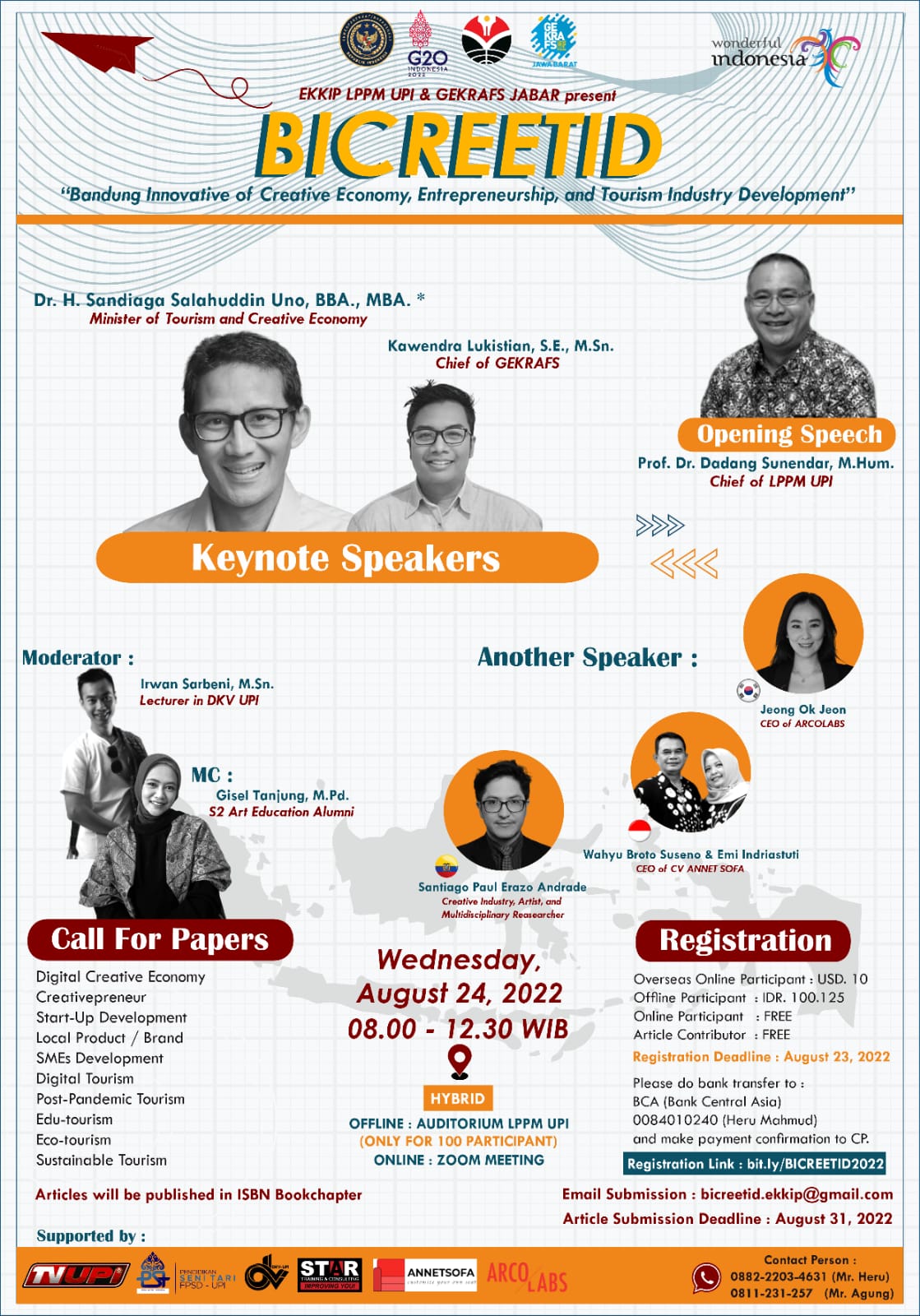 This event is a collaboration between educational institutions and communities engaged in the creative economy, entrepreneurship, and tourism industry. The wider community can participate in this activity according to the existing theme. We hope that this event can be useful for a wide audience in advancing the creative economy, entrepreneurship, and tourism industry in Indonesia.
Opening Speech by Prof. Dr. Dadang Sunendar, M.Hum. (Chief of LPPM UPI)
KEYNOTE SPEAKER
Sandiaga Salahudin Uno (Minister of Tourism and Creative Economy)
Kawendra Lukistian (Chief of GEKRAFS Nasional)
Other Speakers :
Wahyu Broto Suseno & Emi Indriastuti (CEO of CV Annet Sofa)
Jeong Ok Jeon (CEO of Arcolabs)
Santiago Paul Erazo (Creative Industry, Artist, and Multidisciplinary Researcher)
Let's join in the Collaborative Event that will be held in :
Wednesday, August 24, 2022
08.00 - 12.30 WIB
HYBRID (Auditorium LPPM UPI & ZOOM Cloud Meeting)
Get relation, experience, knowledge, and the opportunity to share knowledge through the publication of Bookchapter with ISBN.
For register, click this link (bit.ly/BICREETID2022)
For more Information:
Mr Heru
wa.me/6288222034631
Mr Agung
wa.me/62811231257